The names came pouring out as if shot from an uncontrolled firehose: Craig Smith. Brad Marchand. Sebastian Aho. Seth Jarvis. Elias Lindholm. Andrew Mangiapane. Brad Richardson. Adam Ruzicka. Chris Tanev. Nikita Zadorov. Noah Hanifin. Milan Lucic. Sean Monahan. Jordan Staal. Andrei Svechnikov. Ian Cole. Steven Lorentz. Ryan McLeod. Luke Schenn. Juho Lammikko. Dave Tippett. Brad Hunt. Whatever Nashville is dealing with among players and coaches.
Then, Morgan Frost and Tucker Poolman were pulled in-game.
---
RELATED:
---
All of them entered into COVID protocol. Undeniably, more to come. The NFL reported 62 positive tests. Less than 24 hours after beating the Arizona Cardinals on Monday Night Football, the Los Angeles Rams announced six positives. The NBA postponed two Chicago Bulls games and a Los Angeles Lakers practice (after one positive test). NBA Finals MVP Giannis Antetokounmpo entered protocol, as did seven Brooklyn Nets. Even Manchester United had its Tuesday match called off.
And, we're all asking: "WTF?"
Just like sports brought COVID into the mainstream in March 2020, we're here again with the Omicron variant. According to multiple sources, it is present among the NHL's positive tests. The good news is current data indicates vaccination is effective against the worst symptoms/cases, and everyone (but one player) is there.
If there's a concern right now about spread, simply by number of cases, it's in Calgary. But we may not have a true picture until sometime Wednesday.
The NHL and NHLPA held a call Tuesday night, as urgency grew over two intertwined issues: Should more games be postponed and how much does this jeopardize player participation in the Olympics?
---
---
Pausing the schedule will be an absolute last resort. Everything else will be tried before going there. More likely: A return to much tougher protocols, reminiscent of last year's incredibly challenging 2020 season — mask-wearing at all times, staying at home/in your hotel away from the rink. No restaurants, movie theatres, team parties, you name it. Teams moving from testing every three days to testing every day.
Winter is worse for COVID-19 and the numbers are skyrocketing in the wrong direction.
Some of the U.S.-based teams think a big part of the problem is slower test results in Canada. (The late Poolman pull is an indicator of that, but to be fair, Frost's game was in Philadelphia.) There are more options for privately-owned testing south of the border, and they feel lengthy wait times for results lead to greater risks of outbreaks when playing in Canada. They are pointing at this week's Boston/Calgary/Carolina/Vancouver crossover as proof.
I'm not sure that's easily fixable, but, it's definitely a talking point — a defect in the system.
I can definitely see teams across the border from home base being extremely concerned. Calgary didn't fly to Chicago as scheduled because the Flames were worried players would be stranded in the States. Aho, Jarvis, and a member of the Hurricanes' training staff are currently trapped in Canada, although the Hurricanes are trying to find ambulance/private charter options. Hopefully, that happens. It would be absolutely brutal if the staffer misses what would be their child's first Christmas.
If you told me anyone on Columbus wasn't crazy about facing Vancouver, could you really blame them?
At some point, if teams are going to be forced to play through COVID-crushed rosters, there must be cap relief to add extra bodies. No one should be forced to play shorthanded through this. Almost everyone is vaccinated. They've done what was asked of them, and there's no excuse to make anyone more vulnerable to illness, exhaustion or injury because Omicron is more transmissible.
No more talk about, "Well, everyone should have managed the cap better." It's enough. Make it like bonus overages for next season. Whatever. It's enough already. It affects the product, too.
As mentioned, the good news is that the vaccines are preventing serious symptoms in the majority of cases. There are players/staff who feel that, since they are doing what they're supposed to do, only symptomatic players should be tested and/or prevented from playing. However, I've tested that theory and been told there's no desire to risk a worst-case scenario if a COVID-positive player is knowingly allowed to play.
It's almost impossible to draw any conclusions, because the world as we understand it could change in minutes. The variables change rapidly. Once again, we're in that aggravating place where COVID's spread is uncontrollable.
32 THOUGHTS
1. "I think the COVID explosion comes at the perfect time to back out of the Olympics," one agent said Tuesday. There are spaceships full of non-players who think this way, but how do the players themselves feel? The NHLPA held two conference calls on Monday and another is scheduled for Wednesday. According to multiple sources, potential Olympians were told the risk is this: once they get on the flight to Beijing, they lose control of their personal destiny should they receive a positive COVID test.
According to the Athletes' Playbook, released this week, "If you have a confirmed positive test: You will not be allowed to compete/continue your role. If you are symptomatic, you will be asked to stay at the designated hospital for treatment. If you are asymptomatic, you will be asked to stay in an isolation facility." At a hospital, you will be discharged when: "Your body temperature returns to normal for three consecutive days; respiratory symptoms improve significantly; lung imaging shows significant improvement; you have two consecutive negative PCR test results with a sample interval of at least 24 hours; and you display no other COVID-19 symptoms." At an isolation facility: "You will be tested every day, beginning 24 hours after your last test. You will be discharged once you have two consecutive negative PCR test results with at least 24 hours between the two samples and no other COVID-19 symptoms."
Nowhere does it specifically outline a three-to-five week quarantine. However, the players are being warned that is the worst-case scenario under Chinese law. And, no matter what the guidelines say, that government makes the rules and can adjust them at any time.
2. As things stand this Tuesday evening, it's going to be each individual player's choice about whether or not to go to China. That could change, but it's where we are right now.
To no one's surprise, reaction is all over the place, but two very prominent Canadians made their nervousness quite clear. Connor McDavid referred to a potentially lengthy quarantine as "unsettling," but declined to say if that meant he wouldn't be going. "I've got four kids under the age of three-and-a-half," added Vegas captain Alex Pietrangelo, already named to the Canadian team. "For me to be potentially locked up there for five weeks plus the Olympics, that's a long time being away from my family."
Pietrangelo said he expected to make his own decision "sooner than later." (Team Canada is expected to be named around Jan. 12.) Sweden's Robin Lehner already announced he won't attend. Ryan McDonagh, a Team USA hopeful, said Tuesday morning "there's no doubt in my mind" players want to go, but so many questions are unanswered.
I don't speak to every player — not even close — but I do think right now that is the majority opinion. If the deadline to make a decision was tomorrow, it would be far more pessimistic, but there's still time, as the NHL/NHLPA have until Jan. 10 to decline without financial penalty.
3. What is the financial penalty? No one would give an exact amount, but it includes the costs of the private planes that would be sent to bring the Olympians from North America to China.
4. One question I asked: what if, for argument's sake, the Americans and Russians voted to go, while a good chunk of the Canadians and Swedes didn't? Would we get NHLers from those first countries versus a mixed or non-NHL group from the latter two? Answer: Yes, that could happen.
5. At the Board of Governors, Commissioner Gary Bettman happily told everyone, "I plan on being here for a long time." Sounds like a five-year agreement is being formalized, but if there are any curveballs involved with that — I'm not aware of them.
6. Arizona GM Bill Armstrong refused to comment when asked, but it now sounds like the Coyotes are gauging the market on Jakob Chychrun. I've heard the ask is massive, but that doesn't mean opponents are running away. He's signed for three more years at a very reasonable $4.6 million AAV and is a terrific player. This is one to watch.
7. Other than that, most teams are saying trade talks are "quiet." Writing that never turns out poorly.
8. Believe Winnipeg needs the swelling on Blake Wheeler's leg to go down before the Jets can determine the exact injury.
9. Edmonton GM Ken Holland to Scott Oake on After Hours: "We score about 3.5 goals per game, we give up three. I think we have to find a way to get our goals-against down. It's hard to score four every night… Certainly I want to be a buyer at the deadline, but we've got to win some hockey games. Standings will dictate my thinking."
The Oilers have considered upgrades in goal (depending on Mike Smith's health), left defence and third-line centre.
10. Jim Rutherford's introduction to Vancouver clarified the timeline of Francesco Aquilini's recent resume crawl. He reached out to Rutherford on the weekend of American Thanksgiving, visited him right after in Carolina and wished to finalize things the weekend of Dec. 3, only to be delayed by the new President's non-COVID illness. On Dec. 4, the night of the ugly home-ice defeat to Boston, Aquilini phoned Bruce Boudreau while the latter was attending a Christmas Party in Hershey.
"He asked me if I was interested in opportunity to coach the Canucks, and I said absolutely," Boudreau told Gord Stellick. "The next day, my agent phoned me…'Get your bags packed.' I said, 'What are you talking about?' And he goes, 'You're going to Vancouver if you want this.' And he read me the deal, 'Yeah, I'll go right away.'"
11. The thing we always forget about competitors is they always want to leave on a high. It's very, very difficult to do so. Not everyone can walk away after a ninth Cup like Scotty Bowman. But that doesn't mean they don't try. Both Boudreau and Rutherford wanted another opportunity, and it's an added bonus for them it came in Canada. Boudreau wanted one chance to coach here — "I don't want to cower away from the limelight… I want to be the guy that's on the hook," he said — while there were times Rutherford and Toronto eyed each other during GM openings, but it never got close.
Coaching/managing in Canada has high risks and high rewards. Those two see the rewards. Two Leaf fans saving Vancouver? What a story.
12. Another great line from Boudreau: he told Caroline Cameron, "I'm making so many spelling mistakes, (the players) must think I've got my Grade 3 and that's it."
13. A few of his contemporaries smiled at Rutherford saying he'll observe for a month before assessing what he needs to do in Vancouver. "He's been out a year, he can't wait to get in on the action," one exec said. He is working for permission on one AGM possibility and there are plenty of possibilities for GM. We mentioned Patrik Allvin last weekend. One source mentioned Mark Hunter. I turn all CHL questions to Jeff Marek, whose intel said no. But, another source mentioned he'd heard Hunter, too. So we'll see.
14. Play along on this one and assume NHLers are going to the Olympics. Big stretch for Bo Horvat. I think he's on the bubble.
15. If all continues to plan, it's possible Jack Eichel heads to Vegas early in 2022. He remains in Charlotte, with rehab going well.
Jack Eichel is back skating. ????????

????: brandonwonghockey via @NHL pic.twitter.com/w2RroSMAKz

— Sportsnet (@Sportsnet) December 2, 2021
16. Something has to be done about appeal timelines. No matter what you think about Jason Spezza's suspension, his previously clean record should earn him a fair appeal. Unless Commissioner Bettman surprisingly drops him a game, it's almost impossible to get to an independent arbitrator before the six games are up. That's not right, especially for someone with no history.
17. Not hugely surprised Buffalo did not claim Anton Khudobin. The Sabres, if going for term (Khudobin has one more year), would prefer someone not as close to the end of their career. As game as Craig Anderson is, his health has spooked them a bit.
18. Cale Makar is on-pace for 42 goals after scoring his 13th Tuesday night in a 4-2 win over the Rangers. NHL record for a defenceman is Paul Coffey, 48 in 1985-86.
19. Very, very curious to see how much the Sonny Milano/Trevor Zegras NFT sells for.
20. NHL coaching extensions so far this season: Tampa Bay's Jon Cooper (duh), Colorado's Jared Bednar and Toronto's Sheldon Keefe, who were both entering their final seasons. Also in their final season: Craig Berube (St. Louis, very competitive despite extremely difficult COVID/injury challenges); Dallas Eakins (Anaheim, first-place in the Pacific) and Dean Evason (Minnesota, first in the Central). Evason is going to get done. The other two sure are earning it, too.
21. Would offside reviews be any easier on everyone if the issue wasn't possession inside the zone, but simply, "Do you touch the puck inside the zone?"
22. At the Board of Governors, Bettman said league financial projections indicated escrow money owed to owners by players could be paid off by the summer of 2024 — leading to a cap jump. It's ambitious, and hopefully the Omicron wave doesn't jeopardize that.
23. Really enjoyed last week's podcast interview with Elvis Merzlikins. The Columbus goalie was excellent on several topics. He has a reputation for dogged determination, demanding a level of excellence that might not be possible. (The great ones are often like this.) He told a great story about his first win as the Latvian National Team netminder, a victory that he says took him three years to get.
Basking in the celebration, Merzlikins took photos with fans and signed autographs while his mother, Sandra, observed.
"Why are you smiling? Who are you, a superstar?" Merzlikins said she asked him. "What, I win my first game, come on, be happy. The next morning, she brought me a gold medal with breakfast. I was like, 'What are you doing?' 'Oh you're a superstar, you finally won a freaking game.'" Tough crowd! "I'm thinking, 'Mom, I played really great. I deserve it and I won my first game.'
"But my mom is my mom. I love her. That's why I'm where I am. She (raised me) like this. I love that. Obviously, you need the compliments, and you need to feel it and understand, yeah you are doing a good job. But not too much. It's better to feel that pressure, and it's better to feel something where you did a mistake or something so you can get better."
24. Merzlikins' road to the NHL certainly is unique. Eight years ago, he left Latvia for Switzerland, where Canadian goalie coach Michael Lawrence became a key mentor. Merzlikins actually started in hockey on defence.
"But I didn't understand my role," he said. "When they were shooting, I was catching the puck. When the (other) team was attacking, I was playing as a goalie. When I had the puck I was going as a forward. I was selfish, no passes, just going by myself."
His coaches declared he'd switch positions and become a goalie. He had some experience at the position many of you will identify with. Merzlikins was often stuck in net by his older brother during soccer or roller hockey games. "I was always the goalie, they were hammering that ball. I remember I was in the nets with the tears, because it was painful… to catch those balls against my chest or my shoulders. But I got used to it."
Merzlikins' father, Vjaceslav, died when Elvis was young, and Sandra gets a wide berth because she got him on the right path. "We didn't have a nice life (materially), she was all the time fighting to find some money to bring me to hockey." He went to Switzerland without her at age 15, finding an excellent support system allowing him to thrive. From there comes Merzlikins' determination, and he's constantly demanding better from himself.
The day before we interviewed him (Dec. 6), the Blue Jackets beat San Jose 6-4, but he was annoyed at some of the goals he allowed. "I hate when there are tips, why can't save the tip? Obviously, it is hard. At the same time, I have to give a hard time to myself because I want to be better. I want to catch them, I want to save them, but then realistically you think, 'You don't have that time always to save that thing. But I don't care, find the time.' This is how I talk to myself. Maybe it's because I grow up like this. I saw (other goalies) who always had new pads, new helmets, new sticks… And seeing other boys, they ask, 'Daddy, I want a new stick,' daddy just goes there and buys him one, and my mom she couldn't. I had one stick for three years. That's how I played hockey. I think that's what built my character and my swagger. It's never going to be enough for me."
25. The list of NHL goalies who have scored in a game is Martin Brodeur (three times), Ron Hextall (twice), Billy Smith, Chris Osgood, Damian Rhodes, Jose Theodore, Evgeni Nabokov, Mika Noronen, Chris Mason, Cam Ward, Mike Smith and Pekka Rinne. We've heard Merzlikins is determined to join them. "Yes I will," he said. "I will because I'm going to go for it. Even if I (get one), I'm not going to stop."
26. Finally, discussed Matiss Kivlenieks, who tragically died last summer in a fireworks accident. "I play every single game for him," the goalie said, before adding that when he plays badly "in my head, I say that was just me. I wasn't playing for him, because I want to make (good games) for him."
He still keeps in touch with Kivlenieks' mother, Astrida, and sister, Madara. "His little sister became my little sister… I'm going to take care of her until my last day. She's going to be in my life now. If she's going to need help, she's going to get it from me and my wife as well."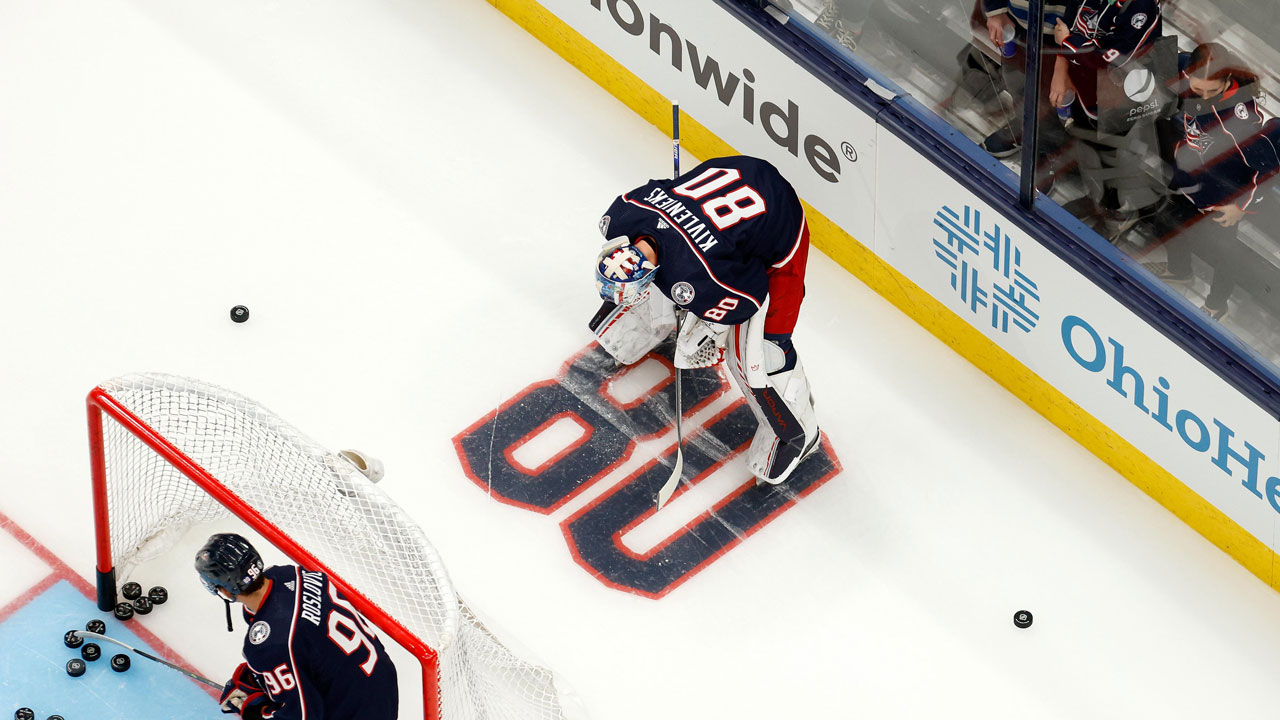 27. One anonymously-made suggestion if the NHLers can't go to China: Why not play the Olympic tournament in the West Coast? For example, Seattle has one event scheduled at Climate Pledge Arena from Jan. 29-Feb. 24. (That's a Seattle University basketball game on Feb. 10.) I know it's a rush to put it together, and it's not going to be the full Olympic experience, but what's perfect right now? Build the game. Get the IOC to FedEx the medals. It's better than not playing at all.
28. Brandon Coe turned 20 on Dec. 1, and received a fantastic gift from the San Jose Sharks — who drafted him 98th in 2020. It was an NHL contract, very deserving for the OHL's second-leading scorer, up in North Bay. Prior to being selected, he wrote an emotional piece for The Players' Tribune, dedicating the honour to his father, Lance, who was diagnosed with cancer late in 2016.
"I'd see him after games and I could tell he wasn't himself," Coe wrote. "He was tired and there were bags under his eyes, but he was there. He was there. He was diagnosed before my OHL career started, and I think he's only missed 30 games so far. That's all the motivation I need to do an extra rep of anything."
Following a brief remission, Lance Coe's cancer returned and he passed away nine days after the Sharks picked Brandon. The NHL journey continues for him and his mother Heather, with Lance watching from above.
29. Sending some good luck Daemon Hunt's way. The 2020 Minnesota pick, a defenceman at WHL Moose Jaw, is a fixture on the international scene for Team Canada. However, he caught COVID at last year's World Junior camp, and was cut. This year, he injured his hand in a game against Canadian University players and can't play. That's a lot to handle, all the best.
30. John Gardner stood behind the bench for the first time at Avon Old Farms — a prep school in Connecticut — in 1975. He won game number 799 on March 4, 2020, 6-3 over Noble and Greenough School in a conference playoff quarterfinal. Win number 800 took more than 650 days, due to COVID, finally coming earlier this month. Among his NHL Alumni: Cam Atkinson, Nick Bonino, Christopher Higgins, Brian Leetch, Jonathan Quick and Trevor Zegras.
31. Four out of seven Canadian teams (Edmonton, Montreal, Toronto and Vancouver) have had jerseys thrown on the ice this season.
32. Years ago, we were at a restaurant with my son (very young at the time). He was tapping the window whenever anyone walked by. Some people ignored it, some smiled, some gave a quick wave. No big deal, he was having fun. One couple stopped and spent almost a minute waving back-and-forth to him, much to his delight. Was Mel and Marilyn Lastman. Made a young boy's day.