Queen Elizabeth II, the only British monarch many Canadians have ever known, has died at the age of 96, and her legacy is likely to live on across Canada, including in Alberta.
The Monarchist League of Canada says she's been to the province several times. She's believed to have met, shaken hands, or spoken to (in person) thousands of Albertans during her reign.
She visited Calgary five times and Edmonton four times. Her first visit was in 1951 when she was Princess Elizabeth during a 33-day tour of Canada.
The Queen did not tour Alberta during her Golden Jubilee royal tour in 2002. However, the province put together several events to mark the milestone.
Her last trip to Alberta was in 2005 for the province's centennial celebration. A crowd of 25,000 people braved cold weather, wind, and rain to watch the Queen, joined by Duke of Edinburgh Prince Phillip, kick off a concert at Commonwealth stadium in Edmonton on Victoria Day.
The Queen cut a birthday cake in honour of the 100th anniversary of Alberta joining confederation. According to Alberta Centennial, artists Michael Carey, Senator Tommy Banks, Jens Lindemann, the Black Pioneer Heritage Singers, and the White Buffalo Dancers and Drummers performed for the Queen. Several other acts were cancelled because of the weather. Ian Tyson sang Four Strong Winds along with performers whose acts were cancelled.
She also visited the Saddledome in Calgary for additional centennial celebrations, as well as making a stop in Jasper.
Also at the centennial celebrations, then-Premier Ralph Klein announced Highway 2, which connects Calgary and Edmonton, would be renamed Queen Elizabeth II Highway.
That same year, she became the first reigning monarch to address the Alberta Legislature.
In 2022, Alberta created a commemorative medal to mark 70 years under the Queen's reign for her Platinum Jubilee. This was the first time a royal occasion was memorialized on a provincial medal in Canadian history.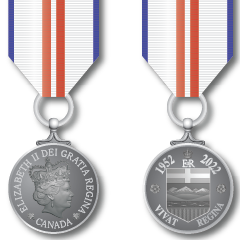 The province says the medal will be awarded to 7,000 people through the year to recognize those who have made significant contributions to Alberta.
Queen Elizabeth II and her relatives have taken part in a number of events and regiments over the years, and some of her family members even have property in Canada.
Alberta Premier Jason Kenney said in a statement that Albertans and people in the commonwealth mourn the loss, citing Sir Winston Churchill in his calling of her reign the "second Elizabethan Age."
"For almost all of us, she is the only Canadian Monarch we have ever known. In an ever-changing world, she was for us a bedrock of stability and continuity, a ceaselessly gracious and dignified presence in our lives," Kenney said in a statement.
My statement on the death of Her late Majesty Queen Elizabeth II. pic.twitter.com/uTG52mL1wQ

— Jason Kenney ???????? (@jkenney) September 8, 2022
"Her late Majesty gave her whole life in service to her people and to the institutions that are the safeguards of our parliamentary democracy and liberties. Continuing her public duties into the seventh decade of her reign and her 96th year, it seemed like she was an eternal presence in our lives. And so today's sad news is for me and for many a terrible shock, as something permanent in our lives has given way."
The opposition NDP also responded, with MLA's Nicole Goering and Sarah Hoffman providing a joint statement on the Queen.
Queen Elizabeth II earned the love and respect of generations of Canadians. From her dedicated service in WWII to her heartfelt message of strength during the pandemic, the Queen was a unifying voice of comfort, stability and hope through many trying times & historic moments.

— Nicole Goehring (@nicolergoehring) September 8, 2022
On a provincial level, Lieutenant Governor Salma Lakhani is the Queen's representative in Alberta. Lieutenant governors in Canada act as "the highest ranking officers of their province."
Lakhani, in a statement, says she will remember everything that the Queen meant to Canada.
"Her late Majesty was a part of our shared identity as Canadians. Through the decades, the Queen's presence was woven into the very fabric of our society. Her late Majesty reigned with grace, dignity and compassion. She joined Canadians in our triumphs, shared in our grief and steeled our resolve in times of trial. Above all, the Queen was an ever-present symbol of the valued principles, attitudes and strengths we share as Canadians and as members of the Commonwealth family," Lakhani said.
Queen Elizabeth II was the most-travelled monarch in history, visiting Canada on more than 22 different occasions. Her last trip to this country was in 2010.
Honourable Nathan Cooper, Speaker of the Legislative Assembly of Alberta, mourns the loss of the Queen with all members of the Legislature, and said in a statement that he was "saddened to learn about the passing."
"On behalf of all Members of the Legislative Assembly of Alberta, I offer my heartfelt condolences to the Royal family. My thoughts are also with all countries of the Commonwealth whom Her Majesty faithfully served throughout her remarkable reign. A beloved sovereign and a respected figure among leaders the world over, Queen Elizabeth II was a symbol of our nation's historical and continuing connection to the British monarchy and also of the role of the constitutional monarchy in Canada."
The Court of Queen's Bench, the superior trial court for Alberta, has already been named the Court of King's Bench after the Queen's death.
Calgary Mayor Jyoti Gondek, who was in Los Angeles Thursday, expressed her condolences.
"On behalf of the City of Calgary and City Council, I extend my deepest condolences to Her Late Majesty's family, citizens of the United Kingdom and the Commonwealth," Gondek said. "Between her first visit to Calgary in 1951 and her final visit in 2005, our city was honoured to host Her Majesty The Queen five times. We are thankful for her extraordinary commitment to the Commonwealth."
Gondek adds the Queen made a pledge about devoting her "whole life to public service" after her 21st birthday in 1947.
"Her Majesty Queen Elizabeth II has kept this promise throughout her entire reign, demonstrating an inspiring example of dedication to duty and the principles of democracy. Her leadership and contributions to global peace and international understanding will be forever remembered with admiration and respect," Gondek said.
A condolence book for Calgarians to sign will be available during business hours at the Municipal Building atrium at the Plaza level beginning Sept. 12.
Edmonton Mayor Amarjeet Sohi also offered his condolences.
"It is sad news to hear of the passing of Canada's head of state, Her Majesty Queen Elizabeth II. I invite Edmontonians to pay their respects over the coming days to the Queen, Britain's longest serving monarch," Sohi said.
Flags at all city facilities in Calgary and Edmonton will remain at half-staff during a 10-day period of mourning. The only exception will be to acknowledge King Charles III accession to the throne.
A national ceremony will be held in Ottawa and a provincial ceremony will be held in Edmonton.
People can learn more about how to pay respects on the Alberta website.